by Faris Rosli
Apr 28, 2021
11 Best Pomades in Singapore [2021]: For Every Hairstyle
11 Best Pomades in Singapore [2021]: For Every Hairstyle
The catchphrase 'your hair is your crowning glory' couldn't be more relevant in today's context. Women are more or less better acquainted with long grooming sessions and have pampered themselves a lot over the last few decades.
But it is also safe to say that men have developed an interest in hair styling products and grooming needs more than ever.
Suppose you are constantly on the lookout for game-changing products that can address your professional styling needs and complement your looks. In that case, pomades give you the best of both worlds and help you experiment with every hairstyle from 'Retro' to 'Punk.'
In the mood for a styling product that can take your look from dull to interesting? Well, you're in good hands.
Here is a roundup of the top 11 best pomades in Singapore:
1) American Crew Pomade
The American Crew Pomade has a straight-up medium hold with a long-lasting aroma and natural sheen. There's no flicker of the doubt here of it being a crowd-pleaser and making it big on the list of best pomades in Singapore.
It is one of the few versatile products suitable for different types of hair - curly or straight hair. It is easy to apply and gives excellent results.
Apply a dollop on dry or wet hair, depending upon your preferred style choice.
Owing to its consistency due to natural ingredients like Sage and Ginseng, the product is safe and reliable for frequent use as there's practically no trace of chemical substances. Together, both ingredients reward your hair by forming a protective cover and strengthen your hair from the roots.
You can purchase the American Crew Pomade at a discounted price of $26.90 from the House of Anarchy collection.
2) Suavecito Firme Hold Pomade
Here is one of the top pomades in Singapore for bad hair days, which will provide a stronghold and kickstart your styling process with added vigour. All you need is a dime-sized quantity, and you're in for a treat for the entire day.
Jump into the shower, and the product washes off with water as quickly as you apply it. Setting down dry hair couldn't get more superficial. With a lovely textured finish, you will look smart and stylish in no time.
Source: SuaveCito
The pomade is free from harsh chemicals and can transform any basic look into something spectacular.
You can purchase it from Singapore's very own Panic Room at a price of SGD$23.00.
3) Undisputed Water-Based Pomade
One of the most classic pomade brands in Singapore, Undisputed ranks high in water-based pomades as this product is ideal to give your hair a standard shine and make it stand apart, no matter what your hair type is.
The no-fuss formula has a silky feel with a refreshingly subtle scent and no residues to worry about.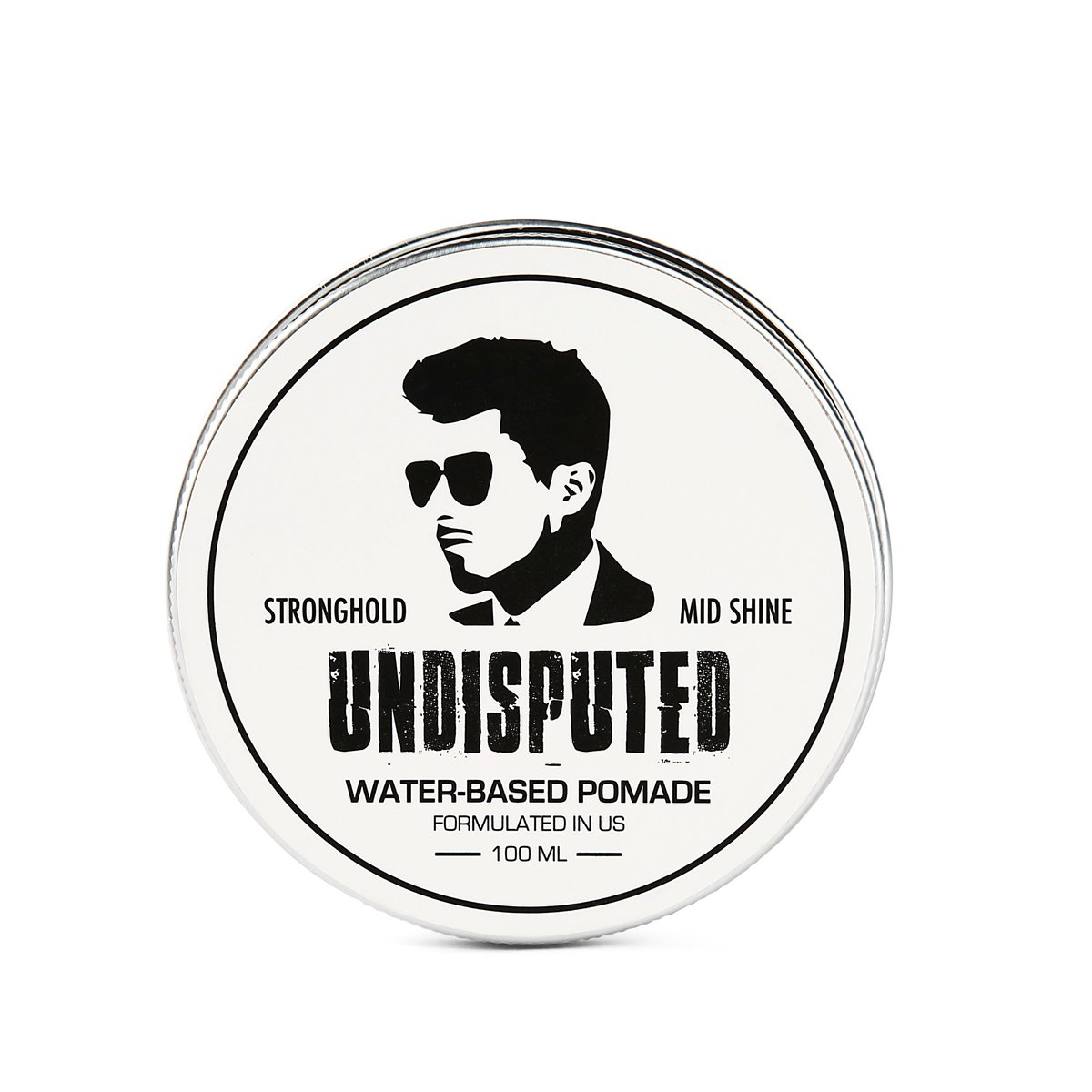 Source: Undisputed
The formulation consistency sticks on easily and washes off with a mild shampoo. A small amount is enough for the day and blends in well.
The result is great-looking hair with value for money because, as the name suggests, it is undisputed in its price range as well. It is by far one of the cheapest pomades that you can find on Lazada for $8.90 only.
4) Imperial Blacktop Barber Pomade
The Blacktop Pomade is an Imperial Barber product that does a little more than just style your hair. Apart from the shine, it also rewards you naturally black locks of hair that you can rave about irrespective of your age. You get to rewind to your youth with excellent quality and finish.
While it is a heavy-duty solution, it comes off easily with a rinse and gives you a thicker and fuller look. The Blacktop pomade allows even distribution through your hair with the help of a comb.
Dampen your hair and add a coin-sized amount to obtain a smooth finish and a touch-up for all the greys that pop out. It is undoubtedly ideal for curly hair and wavy hair alike.
The product is widely available as one of the top pomades in Singapore in the 6-ounce size for $31only at the House of Anarchy. Get the Imperial Blacktop Barber Pomade here.
5) Arcadian Matte Paste Pomade
Making it to the list of best pomades in Singapore isn't easy, but the Arcadian Matte Paste deserves its spot here. You will notice an instant lift and much-needed bounce in your hair texture. 
The matte finish is gorgeous, and the dense cream blends in well with dry and damp hair. The strong hold lasts for the entire day, and you're good to go with your restyling needs.
You can apply it directly to the hair and comb it through to obtain your choice of style. The product is incredible and works wonders for thinning hair as the Arcadian paste takes it a notch higher by increasing volume and adding structure to limp hair.
You can buy the Arcadian Matte Paste from House of Anarchy and say goodbye to bad hair days.
6) Baxter Of California Clay Pomade
With a different texture and feel, this pomade contains naturally occurring ingredients like wax and clay. The clay specifically helps give a matte finish to your hair, making it a one-of-a-kind styling product.
As an emulsion, it is ideal for defining and texturizing all types of hair. All you need is the desired quantity of this product, and you can expect brilliant results in no time.
Comb your hair for even distribution, and take a moment to admire your grooming session's result.
It is one of the best Pomades in Singapore for everyone who doesn't like the dramatic appeal of an artificial shine as this product gives you a natural-looking sheen and silky-smooth tresses.
Priced at $32 only, the 60ml variant is a popular choice amongst many of our customers. Get The Baxter of California Clay Pomade here!
7) ApestomenTM Volcanic Clay Pomade
The ApestomenTM Volcanic Clay pomade is one of the unique pomades on this list. This is because it contains a great ingredient called Volcanic Ash obtained from Bentonite Clay.
With a touch of natural ingredients like Bergamot, Lemon, and Lime, the product adds volume and stability to unmanageable hair. Hence, it is popular to sculpt and style hair and is essential in the men's grooming department.
The product is safe for regular use because of its chemical-free nature. The captivating aroma is also a hot favourite among style-conscious men.
Style your hair with the aid of the hair-dryer too to instantly add vibrance to the dull strands.
You can find the Apestomen Volcanic Clay Pomade 80ml variant for a killer price of $14 only as a part of the House of Anarchy collection.
8) Dapper Dan Heavy Hold Pomade
This product has rightly so made it onto the list of the best pomades in Singapore, and it certainly stands up to its name. With Dapper Dan Heavy Hold pomade, you get the shine and texture without the added build-up. Thus, you look dapper with a defined and well-maintained look.
All of the desired looks that require a little more fullness and a lot more structure are easily attainable. The application is highly durable, even with a full-blown hair-drying session.
It's natural aroma is also unique, with the pomade scented as liquorice with hints of vanilla so you can be guaranteed to smell and look fabulous with this wholesome product.
Applying the stronghold pomade is hassle-free and easy to achieve on dried hair. It is also easy to use for multiple styling sessions.
The Dapper Dan Heavy Hold Pomade is available in quaint packaging for $22 only at House Of Anarchy.
9) Quincy Pomade
Next is a specific hair styling product with the added shine roped in by an essential component called argan oil. Ideal for the humid weather conditions of Singapore, it is a non-sticky formula for all hair types.
The formulation is perfect for combing through your hair and setting it in place on frizzy days. It certainly doesn't dry out and seals in the moisture in hairstyles as vivid as mohawks too.
This premium pomade maintains the style while adding some much-needed sheen. The fragrance and structure are also pleasant and potent at the same time.
It feels great and comes in a fitting package weighing 8.5 ounces at a cost of $48 only. You can get the Quincy Premium Pomade here in House of Anarchy.
10) Reuzel Pink Pomade
Great for styling thick hair, this pomade's pink variant is oil-based and a surprisingly heavy-duty solution. It's the characteristic fragrance of apples and salsa—yes, you read that right—that makes this product so unique.
Reuzel Pink Pomade also imparts excellent elasticity and durability so you don't have to fret anymore over tough texture, which doesn't hold still.
It is a perfect choice for challenging hairstyles that are tough to handle and even more impossible to style.
Since it's oil-based, it holds its ground and can evenly spread throughout your hair with full coverage. Once you want to get rid of the product, the use of degrease shampoo will help you scrub it out easily.
This pomade comes in a 12-ounce container at $22.50. You can buy the Reuzel Pink Pomade from the House of Anarchy collection.
11) Uppercut Deluxe Pomade
This product is easily the best in achieving a well-combed look and keeping your tops and sides visually separated. While some users may find this pomade a little heavy on their hair, its ability to dry quickly and grip your hair is what sets it apart.
With a medium shine, this no-nonsense, super reliable, strong hold pomade will be your best choice to achieve the hairstyle you want; whether that be slick-backs, side parting, or a high pompadour.
Source: Uppercut Deluxe
While this product may be a downside to those who prefer to take their time to style their hair, given how fast it dries, it will help accentuate any hairstyle you wish to go for. 
With a refreshing but not overpowering coconut scent, apply this pomade to dry hair and let it work its magic so you can have perfect hair every day.
Get your hands on this pomade at Lazada for $29.00
Wrapping Up
We hope you had a fun time scrolling through and learning about some of the best pomades in Singapore.
If you want to try out an outrageous look that will last the entire day and buy an uber-cool pomade, your search ends here. Our collection of pomades in Singapore ensures that only the best products are easily accessible for you!